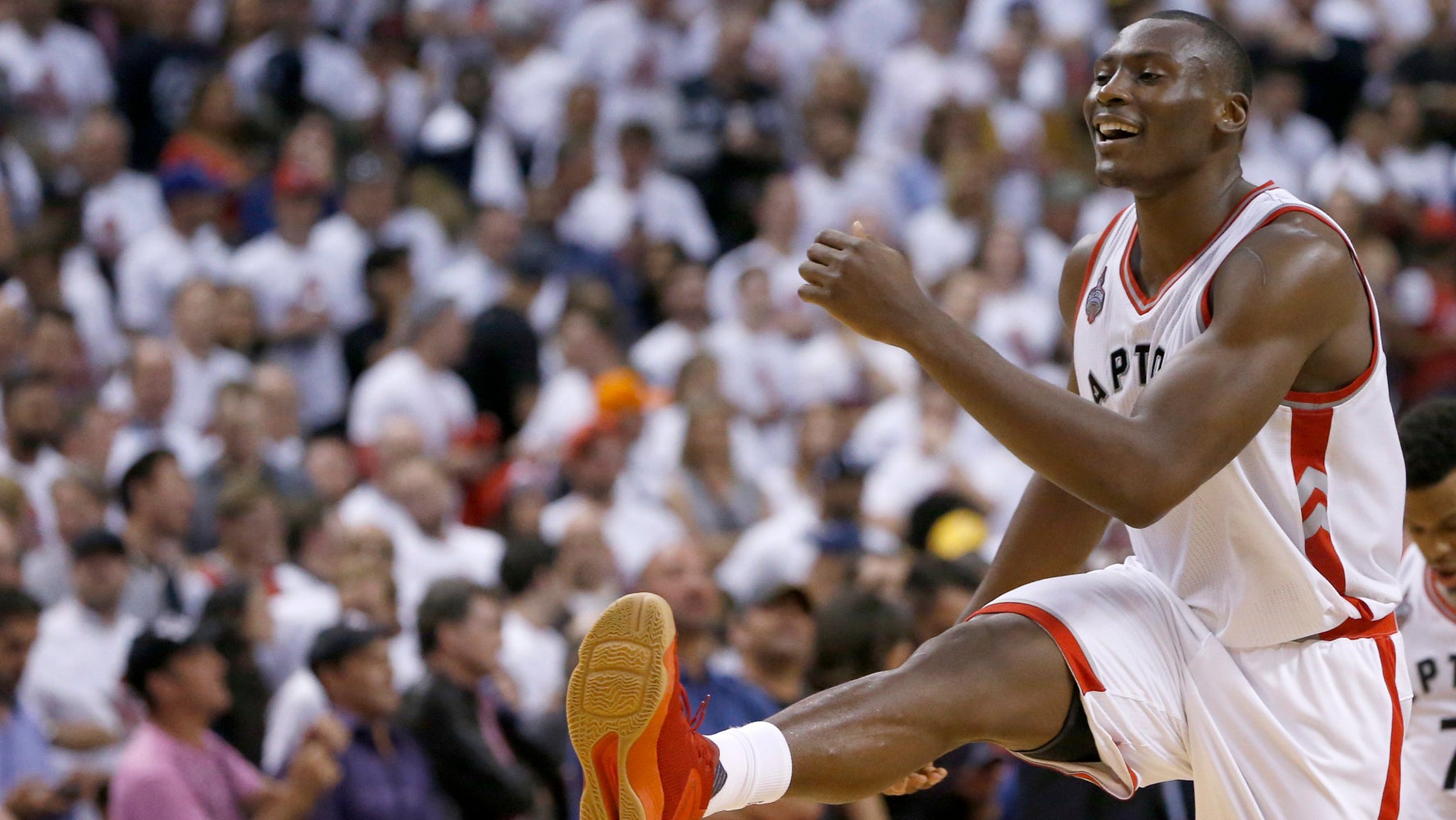 If the name Bismack Biyombo was only familiar to NBA League Pass aficionados before the 2016 playoffs, it has now become near folklore.
That's what happens when you collect 26 rebounds in the Eastern Conference Finals, as he did in Game 3. And it's also what happens when you become a finger-wagging Dikembe Mutombo clone, after blocking 3 shots and nabbing 14 boards in massive Game 4 win to even the series.
Biyombo, the 23-year-old Congo native who went seventh overall in the 2011 draft to Sacramento — before being dealt to Charlotte — has helped change the tenor of a series with his infectious energy, the same energy which led me to tip him during the 2011 scouting process.
Let's take a look at how the 6-foot-9, 245 lb. center has done it.
Despite being a subpar free-throw shooter, Biyombo is semi-reliable mid-range guy who defenses can't entirely forget about. His range doesn't expand beyond the 16-foot range, but he is capable of making a jumper, something he couldn't do during most of his tenure with the Hornets. In this case, Cavs super stretch-four man Channing Frye gets caught sleeping on the DeMarre Carroll drive, only to allow an open look to Biyombo, who makes him pay.
This is an added bonus for head coach Dwane Casey, who doesn't have to worry about him as a liability late in games.
Biyombo, relentless per usual, displays impeccable timing to deny shots at the rim. He does it here in thwarting a Kevin Love drive, and then once more on LeBron James in what appears to be a clean block despite the foul call. Both were momentum building plays for a team that lost by a combined 50 points in Games 1 and 2.
Below in Game 3, Biyombo denies Kyrie Irving's bid at the rim. Irving is one of the premier rim finishers at the rim, and otherwise had a clear path to the basket. Again, he takes a surefire two points — and momentum — away in a game where points are at a premium.
Biyombo's brilliance as a defensive menace for Casey was tested in Game 4 versus Frye. Instead of keeping him on a non-shooter, Casey elected to have him extending on the perimeter. The strategy did not work, as Frye's prolific shooting in the playoffs continued.
Therein lies the chess match between Casey and Cavaliers coach Tyronn Lue. Both teams are deft at playing small ball, but the Raptors prefer to employ Biyombo at the four and a healthy Jonas Valanciunas at the five. Valanciunas has not played in this series due to an ankle injury though, and Biyombo — who has started since Game 4 of the Miami series as a result — has since averaged 9 points, 12 rebounds and over two blocks while converting 63 percent from the floor. Better yet, he has compiled the second-best net rating on the Raptors behind only point guard Kyle Lowry, according to NBA.com.
Moreover, Biyombo's ability to hound the glass is only control the paint has been the key cog for Toronto's two consecutive wins against Cleveland. As a whole, his total rebounding percentage of 20.8 ranked fifth in the league this year, and only defensive unicorn Hassan Whiteside — recently profiled by The Hufington fPost — blocked a higher percentage of shots this season.
Biyombo, who inked a two-year, $5.75 million deal before the 2014 season with the Raptors, will surely decline his player option this summer and command more dollars. Meanwhile, he has only amplified that production in the east finals, and now the pressure has firmly shifted to LeBron and the heavily favored Cavs.
Click here to read my exclusive interview with Shaquille O'Neal and click here to learn about how the Oklahoma City Thunder has solved its biggest dilemma.
Email me at jordan.schultz@huffingtonpost.com or ask me questions about anything sports-related on Twitter at @Schultz_Report, and follow me on Instagram at @Schultz_Report. Also, check out my SiriusXM Radio show Tuesdays and Thursdays from 3-6 PM ET on Bleacher Report channel 83.
REAL LIFE. REAL NEWS. REAL VOICES.
Help us tell more of the stories that matter from voices that too often remain unheard.