In the 40-something hours since Los Angeles Dodger Chase Utley undercut New York Mets shortstop Ruben Tejada at second base — ultimately hospitalizing him — he has become without a doubt the most hated man in New York City.
Seemingly everyone in NYC hates Utley now. The most powerful people hate Utley. The least powerful people hate Utley. Your taxi driver hates Utley. The local bodega guy hates Utley. Even some Yankees fans hate Utley, probably.
As such, we have created A Guide To New Yorkers Hating Chase Utley.
Your middle-aged neighbor is really disappointed in Chase Utley.
For Mets fans who have waited almost a decade to see their team win a playoff game once more, the thought that a dirty play from a Dodger could derail New York's chance of advancing further into the playoffs is both horrifying and heartbreaking — just ask the distraught Mr. Fox.
Wikipedia editors in New York don't like Chase Utley, either.
In the least surprising news of the day, Twitter users also have strong opinions.
And some more tweets from a certain baseball beat writer:
The mayor has come out against Utley.
New York mayor Bill de Blasio called the play "sickening" and the second baseman "guilty as sin." Given what have been recently characterized as his mayoral missteps and his related drop in approval ratings, some may say that Mayor de Blasio crying wolf against Utley is roughly equivalent to the pot calling the kettle black. But then again, he's also a Mets fan, so he's used to not meeting expectations.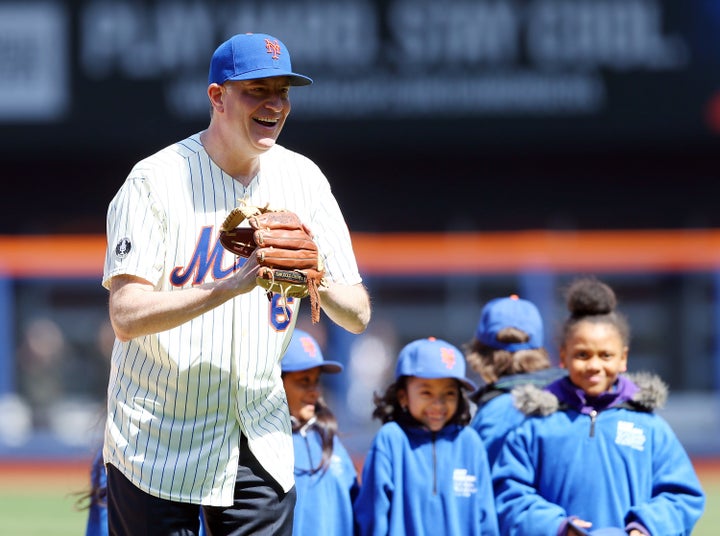 Even the objectivity-obsessed New York Times can't resist deriding Utley.
The Paper of Record has stopped recording and started opining on why we should all hate Mr. Utley. In a Sunday piece on the aftermath of the slide, Times writer Michael Powell couldn't help teetering toward a hometown partiality, penning the following:
For the last decade, Chase Utley had been a name that Mets-loving New Yorkers invoked to frighten little children into silence.
… And if The New York Times is knocking him, you know the New York Post is, too.
The Post — a paper perhaps best known for its bold, polemic headlines — was right at home in the middle of this controversy, using its Sunday edition to splash this across its sports page: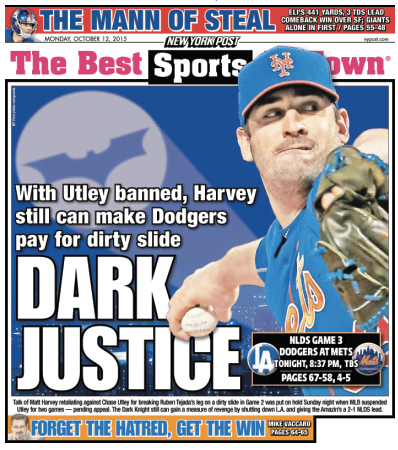 In a similar vein, Mike Vaccaro's Sunday article,"Utley is about to find out what happens when you play dirty," included this gem:
If Utley thought he was detested, despised and reviled in New York already, he has no idea what he's in for. You thought it was ugly when John Rocker returned to the scene of his verbal hate crimes? Maybe you remember Pete Rose leveling Buddy Harrelson back in the '73 playoffs, and the way he was treated the rest of his career at Shea Stadium?

Those were Hallmark cards compared to what's coming.
Ditto the New York Daily News.
"Payback Is A Pitch!" Ostensibly just a headline, these four words from the New York Daily News seem to double as words of advice — as a plea, a prayer of sorts, aimed toward the boys in blue and orange. Paging Matt Harvey: Your local paper has now endorsed an act of retaliation in the form of a 90-something mile per hour fastball careening toward a Dodger slugger's forearm.
The series' fireworks are expected to continue Monday night, when Utley and the Dodgers step onto the Mets' home field for Game 3.
Grab some popcorn — for seemingly the first time in years, baseball just got interesting.
PHOTO GALLERY
Best Baseball Quotes
REAL LIFE. REAL NEWS. REAL VOICES.
Help us tell more of the stories that matter from voices that too often remain unheard.