Elusiveness, fluidity and patience are attributes that generally serve players well in college football and the NFL alike. Former Stanford running back Christian McCaffrey has all of these qualities, which is why I expect him to make a smooth transition to the pro game. It's also why he puts me strongly in mind of the Atlanta Falcons' Devonta Freeman.
Freeman, who's earned consecutive Pro Bowl honors during the past two seasons, was a fourth-round draft pick out of Florida State in 2014. That was in large part because he lacked size at 5 feet 8 inches and 206 pounds, and because he ran an uninspiring 4.58 40 at the combine. McCaffrey is listed at 6 feet even and 197 pounds, which may not help his draft stock but won't hurt it much either.
While I expected a strong performance at the combine from McCaffrey, it turned out to be nothing short of brilliance. McCaffrey clocked a 4.48 40. Just as impressive were his 37 1/2 vertical jump, 4.22 20-yard shuttle, 6.57 second 3-cone drill and 11.03 60-yard shuttle, all tops for running backs in Indianapolis.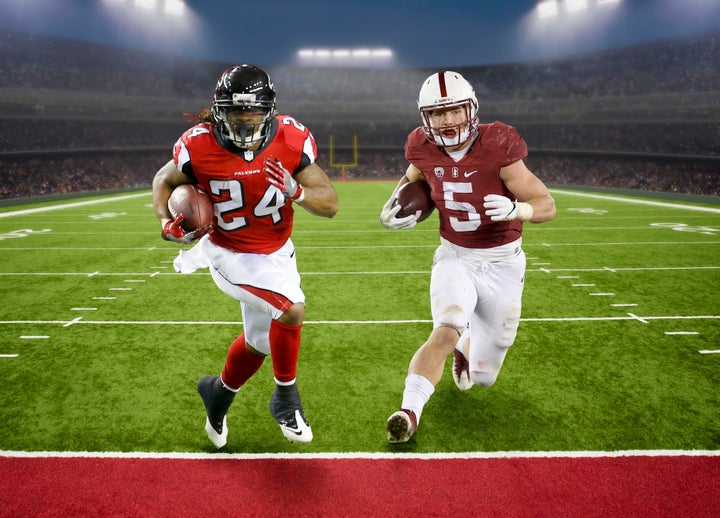 What really separates McCaffrey from other prospects, and what heightens the parallels with Freeman, is his incredible versatility as a runner and pass-catcher. Call him a Swiss army knife, if you like.
According to ESPN The Magazine, McCaffrey ― who turns 21 in June ― ranked second in the nation among Power 5 running backs on rushing plays directed outside the tackles during the 2015 and 2016 seasons. Additionally, he was slotted fifth in catch percentage and third in yards after catch.
And being a capable pass-catching back isn't just about the screen game. The next step is the slot ― and then on wheel routes ― where few guys have the quickness and the hands needed. Marshawn Lynch was great at this, David Johnson can do it, and Le'Veon Bell excels.
Freeman, to his credit, is also deft in such a role for the Falcons. When your running back isn't merely a three-down guy, but also someone who can really catch the ball, offenses open up and become that much more dangerous. McCaffrey, for his part, possesses the necessary elusiveness and willingness to make "traffic" catches, which bodes well.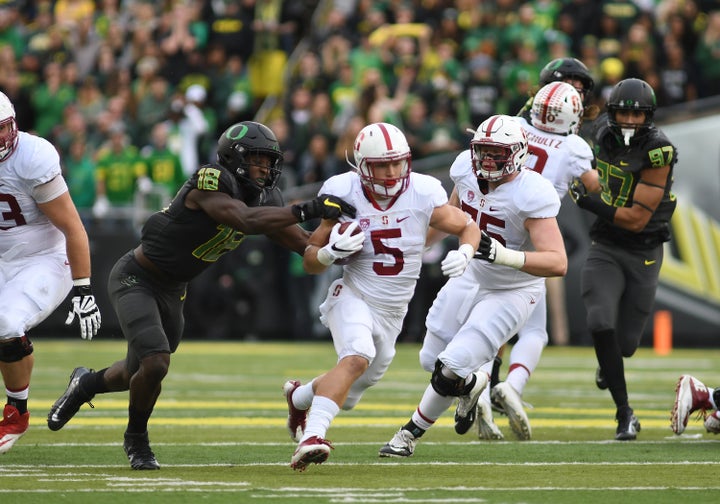 There's also McCaffrey's dynamic punt and kick return ability. In 2015, he broke the all-time single-season NCAA record with 3,864 all-purpose yards. This past year, despite woeful quarterback play, he still managed to rush for over 1,600 yards and a whopping 16 total touchdowns. As a comparison, Freeman also scored 16 touchdowns as a junior, albeit on 1,000 yards and a 5.9 rush average (McCaffrey's was 6.3).
When it comes down to the draft, it doesn't really matter whether McCaffrey is the second, third or sixth running back off the board. I'd even argue that as a pro, his game translates better than it did as a collegian.
Versatility in the NFL is rewarded in spades ― roles are carved out to really maximize talent. (Think Danny Woodhead, Darren Sproles and Tyreek Hill.) To be sure, defenses are much better ― faster and more complex ― but while everyone game-planned for McCaffrey as the Cardinal's first, second and even third option, that won't be the case in the league. Better yet, vision ― undoubtedly one of his best skills ― also makes for an easier transition than, say, just being a power back. (Ask Tyrone Wheatley, Ron Dayne or Trent Richardson about that.)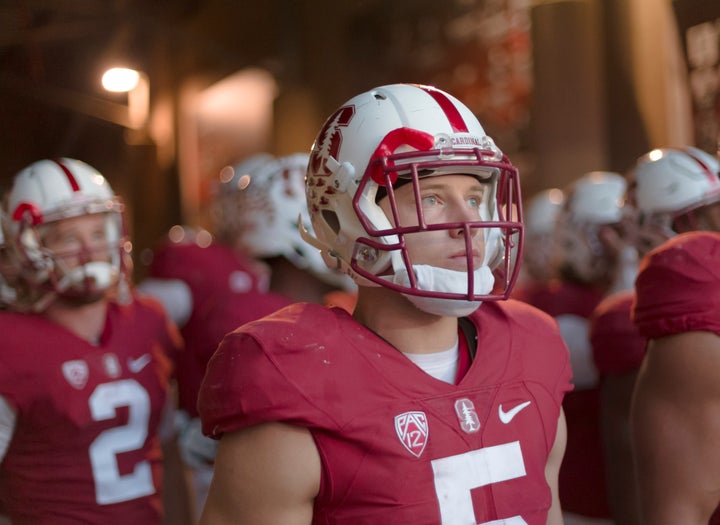 This is not to say McCaffrey is another Le'Veon Bell, but that's where the comparison to the Steelers' megastar running back makes sense. Dictating to the defense instead of letting the defense dictate to you ― that's how both of these guys prefer to run the football. It is very, very hard to do, and it doesn't necessarily mean McCaffrey, a former Heisman finalist, will automatically become a great player. But it definitely helps.
All in all, McCaffrey and his dynamic versatility remind me of no one so much as Devonta Freeman. I suspect he will soon be one of the league's most productive running backs, and perhaps just as importantly, a three-down back as well.
Email me at jordan.schultz@huffingtonpost.com, ask me questions about anything sports-related on Twitter at @Schultz_Report, and follow me on Instagram at @Schultz_Report.
REAL LIFE. REAL NEWS. REAL VOICES.
Help us tell more of the stories that matter from voices that too often remain unheard.