Marv Albert is often referred to as "the voice of basketball." An eight-time Emmy Award winner and a National Sports Media Association Hall of Fame inductee, the 75-year-old broadcaster has been calling NBA games since 1967.
Throughout his illustrious career, Albert has also broadcasted six Super Bowls, two World Series, the NBA Finals and the Stanley Cup Finals, among other marquee events.
The TNT announcer, who will call his 22nd NBA All-Star game this weekend in New Orleans, told The Huffington Post about his relationship with Golden State Warriors coach Steve Kerr, explained why the New York Knicks are a disaster and described how social media has changed the NBA's overall landscape.
This interview has been edited and condensed for clarity.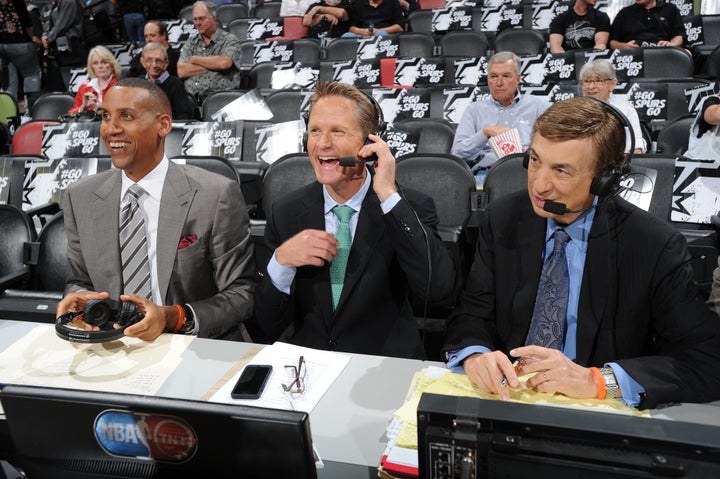 You covered the Olympics in Rio. Team USA had a stretch where it wasn't dominant and actually struggled a bit, before ultimately capturing a third straight gold medal. Did you ever get the sense that coach Mike Krzyzewski was worried?
I think that Coach K was very concerned, actually. Carmelo [Anthony] didn't look like he was in the greatest shape, and also his shoulder was bothering him. The only good game he had ― we talk about it constantly ― was against China, where you and I might have put up double figures.
Until they finally changed the rotation and went with [Kyle] Lowry and [Jimmy] Butler … that's when they started to roll. Even though [DeMarcus] Cousins overpowered people, it was better to have DeAndre Jordan in there. He had to figure it out.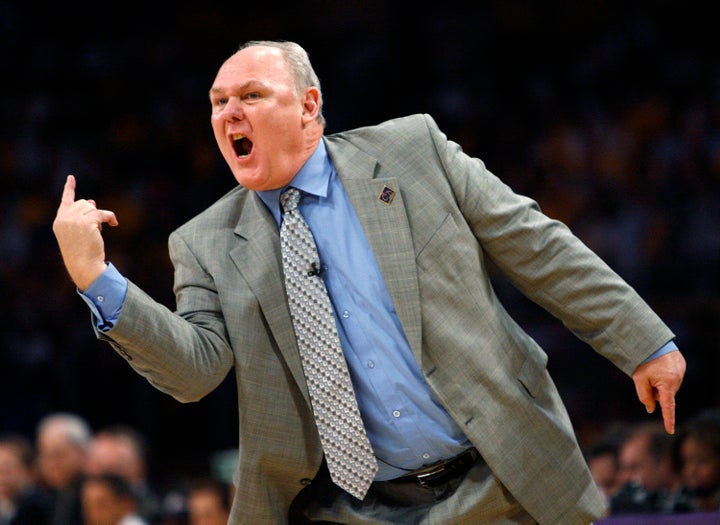 You've covered George Karl throughout your career. He just published a book that was very critical of Cousins, as well as many other players he coached.
We always spent about 10-15 minutes before games with the coaches and you couldn't leave, he didn't want us to leave ― he just wanted to talk.
Phil Jackson did that too, while he was still coaching the Lakers. He'd take shots at Kobe in his books. He couldn't reach Shaq, and Kobe [Bryant] too, which is tough. He would take shots in the papers ― in Chicago he did it a little bit. He was a little more careful because Michael [Jordan] was not going to accept that. The only people he would take an occasional shot at was like [Toni] Kukoc, who was a great guy and really a very good player but he was like the whipping boy. He always had a guy he would be screaming at, Horace Grant and Kukoc.
Do you enjoy the current NBA product, considering there is such an assortment of one-and-done college players?
The fundamentals are not, at times, what they were when guys were playing three or four years [in college]. A guy like C.J. McCollum, who comes in from Lehigh and turns out to be a tremendous player ― but I mean, he's gifted ― that doesn't happen that often. Usually, if the guy is really that good, they wanna come out, and I can understand it. You don't want to get hurt, you could blow a contract, obviously you get the higher salary quicker.
But the league is in the best shape it's ever been in terms of marketing, the global aspect, and I realize there's always an argument ― are you better off with parity, or having the super teams? And right now, you basically have two teams ― maybe three in the West ― who maybe have a shot? I don't know if that's even true ― it's probably Golden State and San Antonio. And in the East, although Boston is getting better, they're like a player away from something.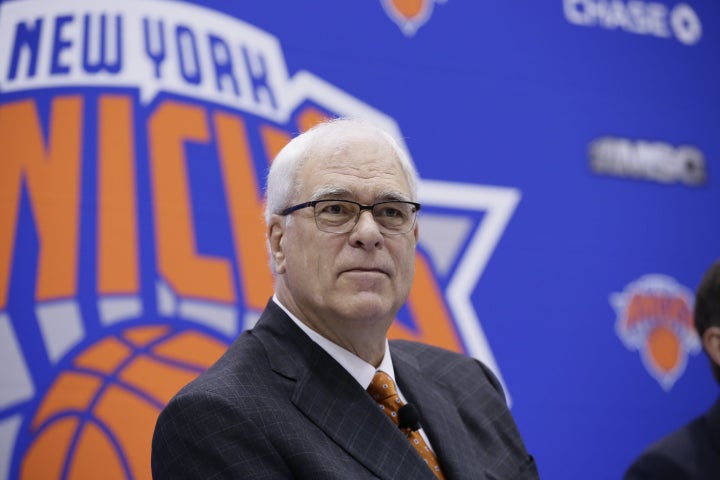 When did it really hit home for you that this league is, at its core, a business?
I think more so in the '90s. Teams when I first started ― you did have nucleuses of teams staying together, of the better teams. In the '70s, the Knicks, the Celtics, Milwaukee, you had teams with seven or eight guys that would be there for several years.
Young players are pushing older players out because they are often cheaper, even if they aren't as good.
Except if they have contracts, those players pushed out would be the eighth player on the roster.
Do you remember such an influx of talented point guards?
You always have to go back and look. Sometimes it seems like the present, but you're probably right. I'm thinking just like a broad view in my mind of the '90s. It was different ― it was more plodding.
It's funny, I'm doing stuff on [Russell] Westbrook. He's chasing Oscar [Robertson] for the triple-double. It didn't seem like it when I think back to it, but Oscar ― when he did it in '62 ― they played at a faster pace. They had like 120 possessions a game and Oklahoma City has 105 or something, it didn't seem like it.
Today's NBA puts such a premium on the whole league. With social media, it often feels like playing in a major market doesn't matter anymore.
It doesn't matter at all, because if you're a big market now, it doesn't mean that you're necessarily a destination for a player.
Look at the Knicks: I don't know if there are that many players [who would want to go to New York] with the way they have been for the last 15-20 years. I mean, they've gone to the playoffs three times in 15 years. This would not be a destination. I mean, you see [Kristaps] Porzingis, you see a couple of the other guys. Would you want to come here?
And then if you don't do well, you get killed media-wise, but it's different also because, I think, [of] the commercials. It shows that you can be in Oklahoma City, you can be in a small market, you look at when [Kevin] Durant and Westbrook were here: They got a lot of commercials, so they became national stars and they are big attractions, aside from being an attraction at home.
I know it's better for the league if New York or LA, Chicago ― you know, the big markets ― do well, but it doesn't matter anymore. Because of the television, in terms of the marketing, in terms of international. Like when I've done games overseas. You'd be in Japan and they knew every player from 1-12 ― that started to happen I think after the Dream Team [in 1992]. It really took off after that.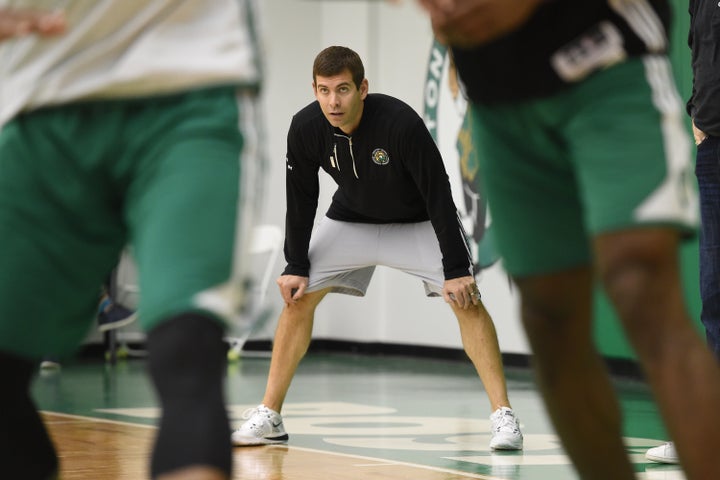 You mentioned the Celtics. Brad Stevens has been the one guy to go from coaching in college to coaching in the NBA successfully.
I think he's exceptional. And what happened was ― I mean, Butler went to the finals twice, it was amazing. I think it added to the reputation, that guys respected him. At any age, that's a terrific job putting that roster together and collecting draft picks, and it was a lot of young guys and they were looking at Brad Stevens as, 'Boy, this guy can coach,' as they saw in college.
But I think there will be others. It's a risk for a guy who is extremely successful in college, it doesn't always translate.
Considering how long you have covered the league, do you still feel the same level of excitement and inspiration from the game today?
Oh yeah, definitely, I love doing it. I still do, I kinda like the preparation. There's some weeks I'd like to be home, go to the movies. My wife and I see every movie, we somehow get it in in between, and I'm like a news fanatic ― I watch CNN and MSNBC all the time, then I'm checking out Fox to see what their point of view is just to see it.
But anyway, I like doing the preparation, I still love being around and talking to guys. I love talking to coaches, working with the guys that I work with. It's filled with fun and laughs, it's a challenge, and the crowds ― I still get a rise out. It can give you the chills sometimes.
The Knicks are just an utter disaster, from top to bottom. Obviously you know all too well about the failures of this organization.
I really feel removed. It's funny when someone says, well, 'Who do you root for, who do you want to win?' and I haven't rooted for anybody. I mean, when I was doing a local team, I did the Knicks and I did the Nets for five years. You get to know guys and you want them to do well. There's certain guys I always wanted, or I had more interest in because I had a personal relationship, but I feel you have to be objective.
And even doing local games, the level of my voice would be raised if the opponents did something really well, too. But it's better, if you're doing a local team, if your team is successful ― because I went through a number of years with the Knicks where they were pretty bad. It's not as interesting. I kind of distance myself from that, but I haven't rooted for anyone in any sport since I was a kid.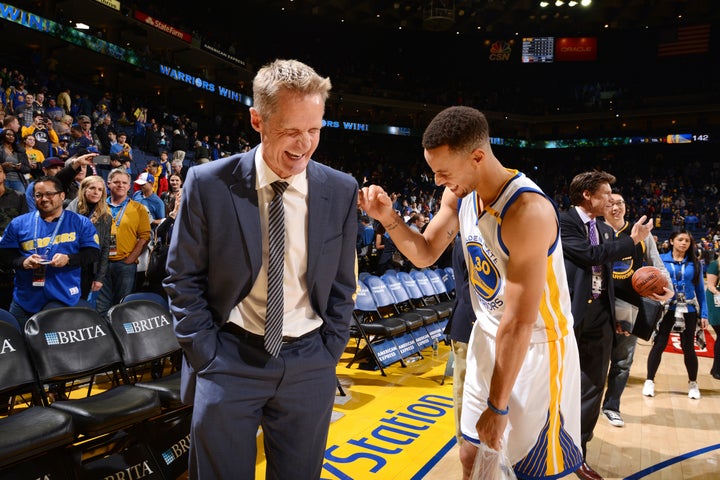 You worked with Steve Kerr in the broadcast booth. You've said how impressed you were with him, but have you even been surprised at the tremendous success he's had leading the Warriors?
He's the best. Such a good guy, and he's very smart, like [Gregg] Popovich. But he's well read, and you saw what both he and Popovich had to say [politically]. They're both terrific guys.
To me, it was like a no-brainer [for Kerr to decide to coach the Warriors over the Knicks]. You look at the rosters. The papers came out, and it was crazy. I mean, he asked me, and I did say, 'There's no choice here,' but I know the Knicks blamed me initially.
I was one of many who told him, but his friendship with [Knicks president Phil Jackson] had a lot to do with the fact that he was even leaning in that direction. He'd never coached! He was a general manager and actually did well, he stepped away from broadcasting for a couple of years.
His Phoenix Suns team reached the conference finals.
He did pretty well with that. As a coach, he's so good with people. I mention it on the air: I say it was a tumultuous eight years with Steve, but he was the best to be around. And very competitive ― he doesn't take any crap! With Draymond [Green], too, he was ready to go at him last year, that was written, he's pretty tough. He had that little brief tiff with Michael [Jordan] in practice. But that's Michael.
What was your relationship with Michael?
Michael is the greatest to talk to, though. He was smart enough to know he was good to be on TV in the '90s, where we'd sit down with the guys and get a soundbite or two. Everything he said you could put on the air ― he was so good. Everything out of his mouth from a television point of view was just worthwhile.
Email me at jordan.schultz@huffingtonpost.com, ask me questions about anything sports-related on Twitter at @Schultz_Report, and follow me on Instagram at @Schultz_Report.
REAL LIFE. REAL NEWS. REAL VOICES.
Help us tell more of the stories that matter from voices that too often remain unheard.