Odell Beckham Jr. is undeniably one of the most electric, dynamic and talented players in the NFL. He is ― as I wrote earlier this season ― also an extremely emotional and, at times, immature football player.
For those living under a rock, the wide receiver subjected himself to endless scrutiny when he traveled to Miami last Monday during the New York Giants' off day. The 24-year-old lightning rod was seen posing shirtless with other Giants receivers and also at a club mixing it up with the likes of Justin Bieber.
In his first-ever playoff game Sunday night in Green Bay, Wisconsin, he dropped two passes ― one that killed a drive on third down and the other a possible touchdown. And then there was a third pass that many people considered a drop. In total, he had a measly four catches for 28 yards. It was the second-lowest yardage output of his career. As a point of reference, consider that he had eight drops on 107 "catchable passes" during the regular season, per Pro Football Focus.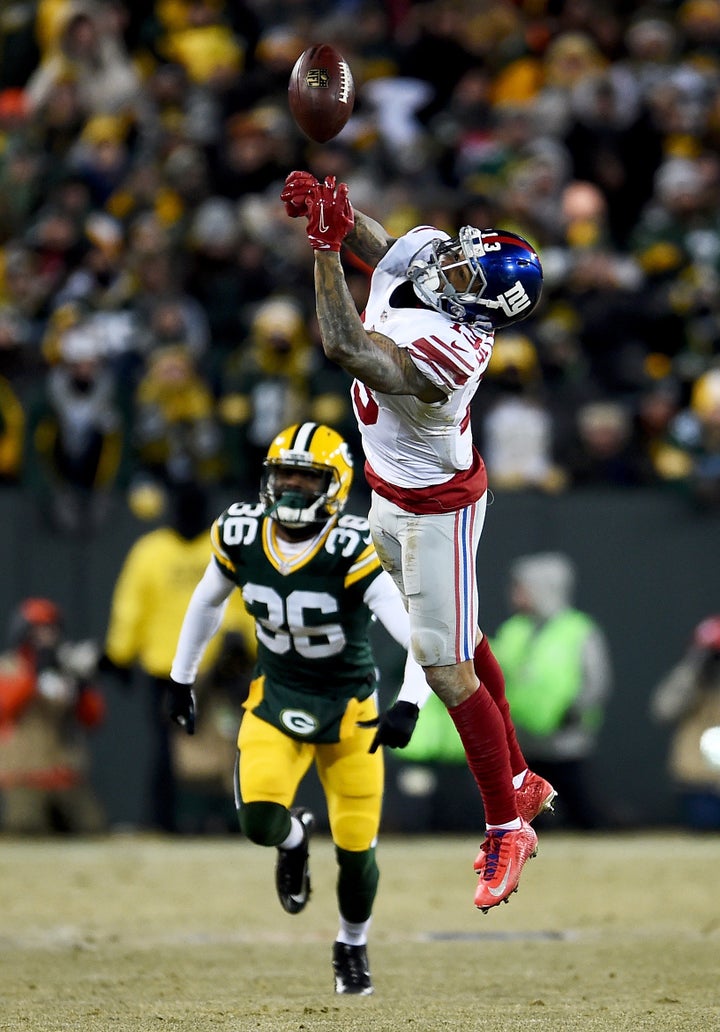 The thing about being a superstar player is that the responsibility to produce ― particularly in the postseason ― is immense. And Beckham has established himself as a true superstar, earning Second-Team All-Pro honors in consecutive years. Yet, through a series of petulant antics, he has also put a bull's-eye on his back. Of course, Beckham is hardly the first marquee player to party before a key game, and we know he won't be the last.
"It started before the game," Beckham said of the disapproving Miami talk. "It happened early, and it did a great job of putting it in people's minds that, 'Okay now if the Giants lose, it's because you went to Miami.'"
"There was nothing that could connect seven days ago to today and how we came out and played and executed. There's just nothing in the world, it's not realistic."
However, amid the social media firestorm, the Louisiana native forgot about where his obligation lies. Truth be told, it's not even about the boat. The picture and the video were not ideal, but the way it played with teammates, coaches and fans was even more important. Even if Beckham's intentions were good, and even if he had played well, traveling to Miami six days before playing at Lambeau Field is seen as just plain wrong. That's the type of activity that should be reserved for the offseason.
This does not mean Beckham cost his team the game ― a 38-13 Packers win. An ineffective offensive line, a critical injury to starting cornerback Dominique Rodgers-Cromartie and an onslaught of conservative play-calling by head coach Ben McAdoo were all contributing factors. Moreover, we will never really know for sure how much No. 13 and his off-field distractions cost his team.
All we can do now is hope that OBJ ― whom ESPN reported punched a hole into a wall ― learns from his mistake and that a potentially brilliant career isn't further hindered by poor decisions.
"These are the learning experiences, as tough as they are, this is what you stand on and grow from," Beckham added. "It sucks. There's no way to put it. It sucks. It's a horrible feeling."
Email me at jordan.schultz@huffingtonpost.com, ask me questions about anything sports-related on Twitter at @Schultz_Report, and follow me on Instagram at @Schultz_Report.
REAL LIFE. REAL NEWS. REAL VOICES.
Help us tell more of the stories that matter from voices that too often remain unheard.