During his quarter-century career, Christopher Daniels has become one of the most prolific tag team competitors in professional wrestling. Now hoping to cement his position as half of Ring of Honor's most dominant duo in "Ladder War 6" at the company's upcoming All Star Extravaganza VIII pay-per-view, Daniels says he "always saw a future in being a tag team."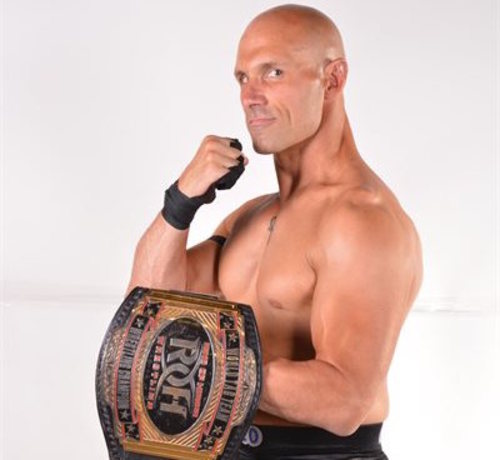 Pro Wrestler Christopher Daniels, Photo Courtesy of Ring of Honor
Each Saturday morning, the budding superstar would tune in to see the best duos in sports entertainment history battle for gold. As Daniels points out, the '80s were marked by teams which stayed together for years, sometimes entire careers, commonly moving from one territory to the next, collecting regional championships worldwide.
"I grew up watching the Mid-Atlantic territory and the [National Wrestling Alliance]," shared Daniels, who with partner Frankie Kazarian holds the ROH World Tag Team titles. "I got to see teams like The Rock 'n Roll Express, Midnight Express, The Fantastics and The Fabulous Ones; I got to see them go all around the world and have success wherever they went."
It's a path Daniels and Kazarian — collectively known in ROH as The Addiction — have followed as well. Formed five years ago in Total Nonstop Action, the pair jumped to ROH in 2014. They are now enjoying their second run as the company's World Tag Team Champions, no easy feat considering they battle arguably the best tag team division in pro wrestling today.
"In the last year-and-a-half to two years, we've had the chance to work with some great tag teams like The Briscoes, reDRagon, The Bucks, Roppongi Vice and The War Machine," said Daniels during a telephone interview, "I feel once [ROH] gave us that opportunity, we rose to the occasion to prove we belong in that environment with such great teams."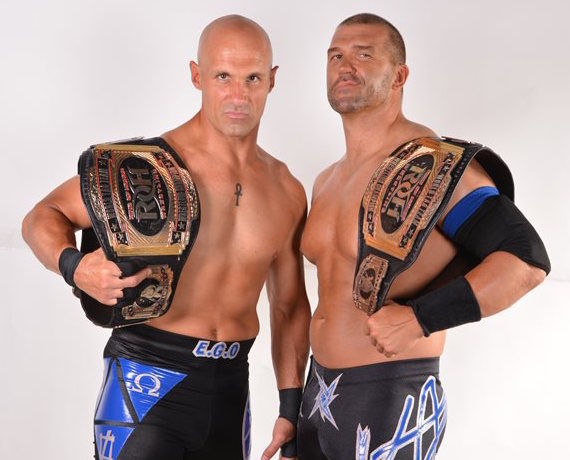 ROH World Tag Champs Christopher Daniels & Frankie Kazarian
Photo Courtesy of Ring of Honor
The Addiction will have to "rise to the occasion" yet again Sept. 30 if they hope to keep their belts at the Boston-based PPV. They defend against The Young Bucks and recently-reformed Motor City Machine Guns in a three-way ladder match. Also on the card, ROH World Champion Adam Cole faces former (as of last weekend) IWGP Intercontinental Champion "Unbreakable" Michael Elgin and "The Infamous" Bobby Fish puts the ROH TV title on the line against Donovan Dijak.
Certainly if anyone can pull out a win against the best in pro wrestling, it's Daniels. During his career, "The Fallen Angel" has claimed a cool dozen World tag team championships in federations around the world. Despite winning the Pro Wrestling Illustrated "Tag Team of the Year" honors in 2006 with current WWE World Champion AJ Styles, his most successful and long-term partnership has been with Kazarian. The duo first joined forces over a half-decade ago in TNA.
"Around the time Frankie and I got together, we saw a possibility to become a team in the sense there were no teams there in that [top] spot," explained Daniels, who helped headline a show in Duluth, GA, on the ROH Reloaded Tour on Sat., Sept. 24 before heading into this weekend's PPV.
Shortly before Kazarian and Daniels combined in 2012, TNA's tag team division fell on dire times. Multi-time TNA tag champs Beer Money imploded as members James Storm and Bobby Roode set out after the TNA World title, and favorites The Motor City Machine Guns (now shooting for gold at the upcoming ROH PPV) were sidelined by injury. Daniels and Kazarian were able to "fill a void."
WATCH: The Addiction vs. The Young Bucks vs. The MCMGs
Their chemistry was immediate — as was success. Eventually known as "Bad Influence," they became two-time TNA World Tag Team Champions, first trading the belts with legendary Olympic Gold Medalist Kurt Angle and Styles. After dropping the titles to Chavo Guerrero, Jr. and Hernandez, they were unable to regain their footing and ultimately departed TNA in Spring 2014.
"We felt like we never finished what we could have done there in TNA," said Daniels of the decision to jump to ROH as a team. "So it worked out really well that they allowed us to come in as a tag team."
Within weeks of joining the company, available across the country on local stations within the Sinclair Broadcast Group, the team now known as The Addiction was already competing for the ROH World Tag Team titles. After a series of near-misses, Daniels and Kazarian finally took control of the division earlier this year
"I feel like there's a lot more opportunity for tag teams in Ring of Honor than most other places," admits Daniels. "We're very lucky to A) Be able to get a spot; and B) Be able to work with all these great teams and continue to show we're still up there when it comes to the top tag teams in the world."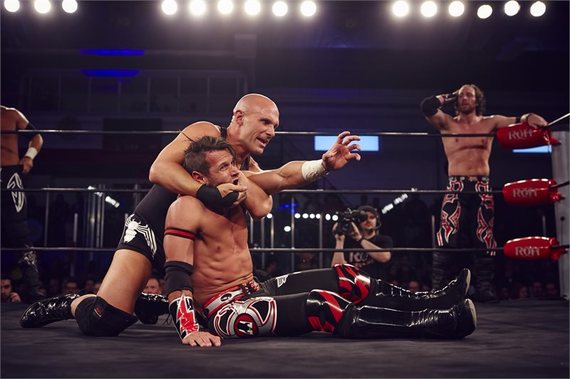 Christopher Daniels punishes one of the Motor City Machine Guns.
Photo Courtesy of Ring of Honor
As The Addiction maintains it's top spot in not only ROH but the Pro Wrestling Illustrated rankings of teams around the globe, Daniels watched as former partner Styles joined World Wrestling Entertainment. He is "thrilled" by his long-time friend and rival's recent WWE title win.
"Whatever WWE's mentality is or was about talent that's come out of TNA," said Daniels, "I think AJ going over to Japan and having the success he did — I don't know if it's 'cleansed the palette' or changed everyone's minds that he can work and get over in a different environment, but now he's gotten that opportunity and he's taking advantage of it."
No stranger to solo success as a former ROH TV champion and six-time holder of TNA's X-Division belt, Daniels has yet to win "the big one." And, being the fighter he is, he refuses "to close the door on going for the World championship."
"It's the one thing that has eluded me my entire career," he admitted. "It would certainly be poetic to get that after so many years."
For now, though, Daniels is more than content to continue The Addiction's tag dominance. And, given the team's strong commitment to one-another, he is secure knowing that if an opportunity arose for either Kazarian or him to pursue a major singles push, neither would hold the other back.
"In addition to being my partner, he's one of my best friends. If they gave him the opportunity to be World champion or TV champion or any kind of singles accolades, I'd be the first guy in line to support him," he concluded. "And I know if that happened for me, he'd be the first guy supporting me in that same way."
Visit the Ring of Honor Website for More Details.
REAL LIFE. REAL NEWS. REAL VOICES.
Help us tell more of the stories that matter from voices that too often remain unheard.