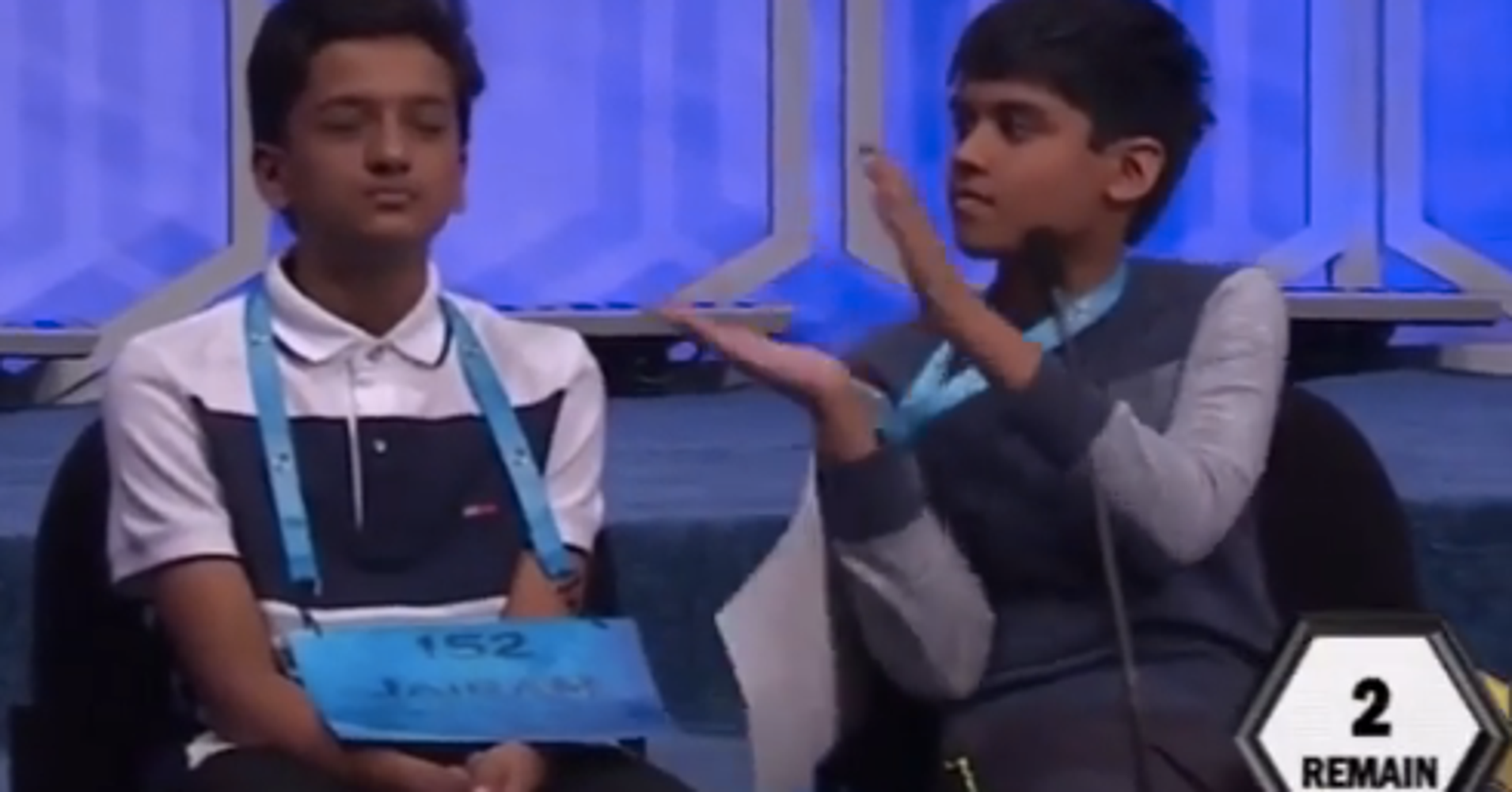 Standing on the biggest stage of their careers, the best of the best faced off on Thursday evening. It was a night full of tears and taunts, of cold-blooded celebrations and clutch competition.
It was not the NBA Western Conference Finals. It was, somehow, the annual Scripps National Spelling Bee. And it was actually pretty lit.
In what seems to have been a concerted effort to appeal to the elusive "youth culture," the ESPN-broadcasted bee was replete with moments intended to go viral — and however obviously cynical the move may have been, we have to admit: It worked.
This year's spelling competition was — miraculously — pretty entertaining, and a lot of that was a result of kids being kids. While the Golden State Warriors were dueling with the Oklahoma City Thunder on the West Coast, we had a matchup just as contentious on the other side of the country, between the soon-to-be co-champions Nihar Janga and Jairam Hathwar. Here are some of the best moments from last night's competition.
The kids proved the dab isn't quite dead yet.
And if the dab isn't dead, you know the Running Man Challenge is still alive and well.
When Jairam misspelled "drahthaar," co-champion Nihar "The Machine" had no mercy.
The bee used our collective adulation of Golden State superstar Steph Curry to help Nihar parse "giallolino."
"While painting a portrait for his shrine to Steph Curry, the artist used giallolino to help create the perfect hue for his Golden State Warriors jersey."
Nihar went on to celebrate a successful spelling of "gesellschaft" with Dez Bryant's patented "X" move …
… Which Bryant loved, of course.
Lil Wayne and JJ Watt also found themselves fixed to the screen as the competition went down.
So really, we have just one question left: Can we turn this into a seven-game series too, please?
REAL LIFE. REAL NEWS. REAL VOICES.
Help us tell more of the stories that matter from voices that too often remain unheard.